"The supermarkets say buy
local but you cannot beat
            'growing your own'"
Tadpole Tales – August 2020: 'A Year of Reflection'
We really can't believe it will be a year at the end of this month from when we initiated 'TGV in Bloom'.
A lot has happened in those 12 months, both inside and outside of the village. Leaving COVID-19 aside, and the impact it has had on all of us in one way or another, we thought we would use this month's blog to take a look back at what we have achieved, reflecting on the many reasons to celebrate our 1st year anniversary.
The brain child of Pete Welsh, a resident of the village and keen gardener, TGV in Bloom was officially launched in August 2019 with our first judging in the 'Britain in Bloom' competition. As novices, and only a small number of willing volunteers involved at that stage, we were delighted to find out in the October that we had been awarded a Silver medal in the South West Town /City Pennant – North category.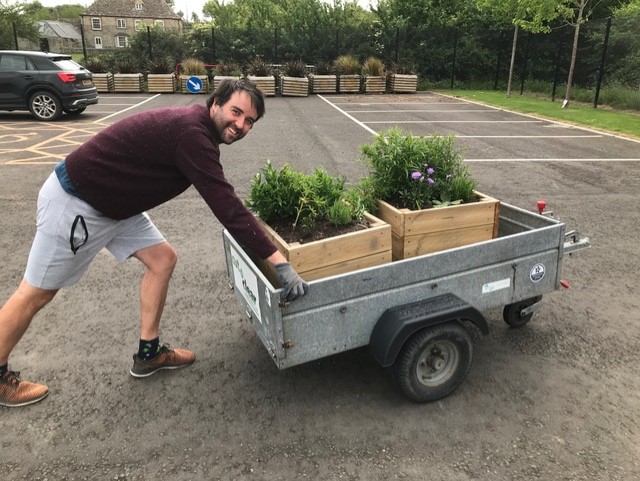 With such a positive beginning, we were spurred on to strive for even better results in 2020, and so we set about planning how we could improve across the three RHS judging categories of Community, Horticulture and Environment.
We were extremely lucky and grateful to have the support of key partners in the village, who helped us to get on our feet with several generous funding donations. Crest Nicholson, the lead developer in the village, have been very supportive since day one of our endeavours, initially donating 3,500 spring bulbs that our recently formed Gardening Club Crew planted along the main through routes (William Morris Way & Greene Street), as well as gifting signage for the village entrances, announcing our newly won award status! Preim, our Management Agent for the village, have been as equally supportive and helpful, donating the use of the plot for our community allotment, gifting timber, decking and compost for the building of our initial set of village planters, and pallet collars to form raised beds on the plot. Preim's maintenance contractors, 'Cut N Clear', have also been supporting us in various activities on the allotments and out in the village, and David Jarvis (community landscape architects for TGV) have helped us with their donation of 50 herb plants for the community plot.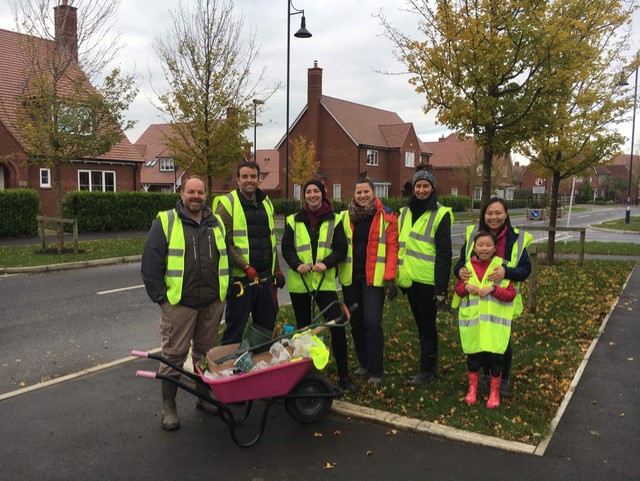 Our TGV in Bloom Headquarters – 'Plot 28' on the community allotment site, has become the hub of our activities over the past year. From receiving permission from Preim to use it as our 'growing base' in October 2019, it has developed significantly, from a bare patch of earth, to a thriving plot delivering fresh fruit, veg, herbs and plants that are used out in the village, and help to raise funds & bring the community together through our open plot events. What a difference a year makes!
We have had a few setbacks, like any embryonic organisation, from the wild storms in 2019 dismantling our temporary green house and decimating early seedlings, and an over zealous pizza delivery driver colliding with one of the village road planters, requiring the initiation of 'operation plant rescue', to the heat of 2020, which has required a lot of watering and care of the village planters & the community plot, which fellow residents have been fantastic at helping out with.
But we have persevered, and the hard work of our willing volunteers have seen great results, with some very kind and positive feedback from residents, for the weeding & litter picking activities undertaken out in the village, and the open plot events that are becoming quite popular in the village. We have also been well sustained, with generous cake baking to keep us going through the cold & heat of the seasons – thank you Noreen & Coral!
Our social media following has increased dramatically also, with our TGV in Bloom Facebook group now standing at 221 members, and our Twitter followers at 61. BBC Wiltshire have been with us down at the community plot, early on a crisp winter's morning, talking to us about our endeavours, with several local press articles written about the progress we are making and the community activities we are undertaking.
Swindon Borough Council, through their contractors Osborne, have kindly donated wood chippings for our community plot, with fellow allotment holders also benefitting from their regular deliveries through June and July.
We also now run a plastic plant pot recycling scheme in the village, with a donations bin placed just outside the allotment gates for residents to place their unwanted pots in. These then get used on the community plot for potting on seedlings and young plants, some of which have gone on to be used in our now flourishing planters out in the village.
Our aforementioned open plot events are becoming ever more popular, with over £900 raised so far. Altogether, in our first year we have raised just over £8,840 through a variety of fundraising activities, grants and donations. From this, we have setup the community allotment and initiated this year's growing season on it, funded the build and planting out of the first 11 village planters, planted over 4,000 bulbs, raised sufficient funds for the building of a community greenhouse (which we hope to gain planning permission for this month), and are now well on our way to have funded the erection of our 'Thankful Village' memorial on the Stray for all villagers to use to remember those who have paid the ultimate sacrifice.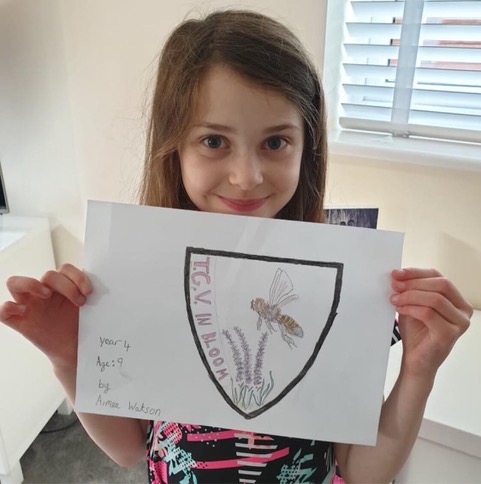 Thank you to all who have worked so hard to raise these funds, and to those who have supported us so generously. We couldn't have done any of this without you all. Looking ahead to our second year, we now have a new logo that will be worn proudly by our volunteers as they work on the plot and in the village. IT has been designed by one of our younger village residents, Aimee Watson, who won our recent logo competition. Thank you Aimee – we can't wait to wear it with pride over the coming months and years.
And so our first year closes, which we will celebrate with our supporters and volunteers at our birthday celebrations on Friday 28th August. If you fancy joining TGV in Bloom, and helping out on the community plot, or around the village, please contact us via our social media channels, or speak to us when we are out and about in the village or on the community plot. No prior experience is needed – just the willingness to get stuck in, a love of the outdoors (in all weathers!), and a like for a well deserved slice of cake at the end of a busy session!
Next Month: Our birthday celebrations, and our plans for our second year!