Local traders now available on the TGV App
March 24, 2022
Since last year we have seen business thriving across Tadpole.
Firstly, it was Sainsbury's shop opening and then we welcomed TGV Barbers, Jessica's Hair and Beauty and the Project Coffee.
A variety of local businesses made their appearance during the monthly Open Plot events hosted by TGV In Bloom, ranging from people offering baked goods, to photography or handmade art. Many people have also been asking for recommendations on the Residents Facebook page for a local tiler, gardener and many other services.
That's where the idea of creating a local business directory came to mind.
Our Tadpole Garden Village Mobile App (Available on iOS and Android) is where that idea came to fruition. Each business that enquired to be added to our list is now available via the app!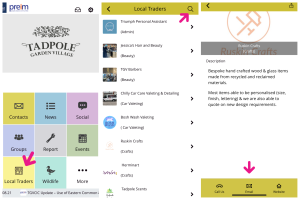 Simply open the TGV Mobile App and click on "Local Traders" and the list will come up.
What makes the app amazing is that you can easily scroll down to find the trade you're looking for or use the search button on the right top corner.
Once you've chosen the business you're after you can choose to call, email, or visit their website straight from the app, no pen and paper necessary!
If you are a business based in Tadpole and wish to be added to the directory, please email me on kasia.ganzera@preim.co.uk