Tadpole Tales: 'We Are One'
September 3, 2020
Another busy month for the TGV in Bloom volunteers. As is typical of our great summer weather, our 1st birthday celebrations were held on an evening of torrential downpours and high winds, but even the good old British weather couldn't dampen our spirits…
The event was well attended (under strict COVID-19 social distancing regulations) by our committee members, volunteers and partners who have all helped to make our first year highly successful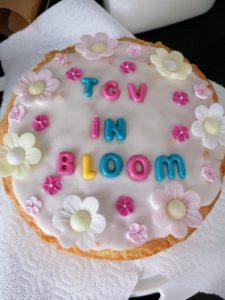 and enjoyable. With kind donations from Arkells, Kimmi's Cakes and Sainsburys to help us celebrate, and some fantastic nibbles and crudités made by our very own Secretary and Events Manager, Coral van der Kamp, our chairman Pete Welsh gave a brief speech outlining our achievements over the year. These included:
– Gardening club formed with 25 active members
– 3,500 spring bulbs planted
– Community plot gifted for growing plants, fruit and veg for village, local
community and charities
– Constitution formed with three committee members
– 280 Facebook members & 70 twitter followers
– 11 wooden planters built
– £5,000 lottery grant & £2,500 landfill grant
– 50 wooden pallets collected!
– 5 open plot events raising over £1,000
– 2 storms, 1 pandemic, 1 radio interview
– 1 Silver RHS Britain in Bloom award & 1 thriving community
Phew!
We also got to show off our prize winning logo design on our newly printed T-shirts and hoodies (thanks Dave Herbert & Magic Touch Promotions) and took time to reflect on a great first year.
However, not resting on our laurels, August also saw the community Greenhouse & 'Thankful Village' memorial planning applications granted, with both projects now fully funded through the fantastic fund raising activities and grant awards received, alongside very kind donations from Preim and their maintenance contractors 'Cut N Clear'. We will be progressing their respective builds over the next couple of months. Watch this space!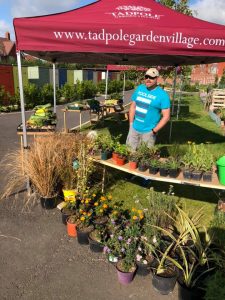 We also held our 5th Open Plot event, raising a fantastic £380 in just 90 minutes! The popularity of these events is growing considerably, with people now queuing to get in before the start time! Thank you to everyone who has supported us to date, and especially our repeat customers. We have taken your feedback on board and will have some more exciting additions to our
next events to announce shortly. We have just purchased over 600 daffodil, tulip and Lilly bulbs that we will be planting on the community plot this autumn – so there will be cut flowers to look forward to at our 2021 events from the spring onwards.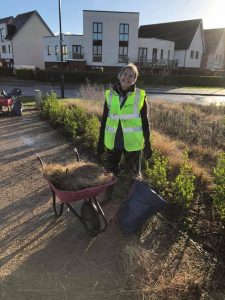 The TGV Gardening Club Crew have again been busy with projects this month. They worked on an overgrown area on Pearson Road, alongside some very helpful and willing residents, clearing over a dozen bulk bags of weeds and grass cuttings, opening up the area and bringing the planting back into sight. The next project on the list is to install a flower border in front of the flats at the entrance of The Stray, to brighten up their views from their lounge windows. All plants for the border have been grown by TGV in Bloom on the community plot. We are also looking to install two large herb planters outside the Sainsburys shop, so that all residents can have access to freshly picked herbs as and when required for their Sunday roasts, evening meals or fresh lunchtime salads!
Have a great September, and if you see the TGV in Bloom Crew out in the village, give us a wave or a toot on your horn.
Next Month: Project updates and plans for a front garden competition in Spring 2021.